Karen serves as Executive Director and Co-Founder of Autism Empowerment and is currently the Board President. She is the Editor of Spectrums Magazine and the podcast host for Autism Empowerment Radio. In 2016, she was chosen to become a Peer Reviewer for the Department of Defense's Congressionally Directed Medical Research Program for Autism and is one of the only autistic adults to ever serve in that role.
Karen considers Autism Empowerment her calling and passion. She is a self-advocate, parent advocate and autism community advocate. Karen is mom to two sons (11 and 17) diagnosed on the autism spectrum. It wasn't long after her sons were diagnosed in 2008 that she learned she too was on the autism spectrum but had grown up undiagnosed. Her official diagnosis of Asperger Syndrome (now Autism or ASD) brought relief and understanding. Self-acceptance brought her peace.
Karen is a creative big-picture thinker with over 15 years experience in operations, sales and start-up ventures. Prior to co-founding Autism Empowerment with John Krejcha, she founded an internationally award-winning online collectibles business which she and her husband owned for 14 years. Other experience includes public speaking, advocacy, marketing, customer service, blogging, freelancing and social media.
Karen's work experience is diverse. Back in the 1990s, she was a touring professional with the Ladies Pro Bowlers Tour and was nominated for both Rookie of the Year and The Robby Sportsmanship of the Year award. Other bowling highlights included representing the United States in international competition and bowling collegiately for California Polytechnic State University, San Luis Obispo where Karen majored in Child and Family Development and was actively engaged in student leadership and advocacy.
Additionally, Karen has served in a variety of sales, recruiting and management positions in the employment industry, including Regional Manager for a national technical job placement firm in the Silicon Valley.
Prior to Autism Empowerment acquiring Spectrums Magazine in April 2016, Karen served as a founding member of the Editorial Advisory Board. She was also a part of the Steering Committee for the SW WA Special Education Conference and Resource Fair in 2013 and 2014.
Karen is a founding member of Southwest Washington Disability Alliance and an active member in a number of cross-disability coalitions and alliances including the Clark County Disability Coalition and the Special Education Parent and Teacher Student Association (SEPTSA). She is a 2014 graduate of the Clark County Leadership Development and Advocacy Training program.  This two-year program was an advocacy and leadership training program for developmental disabilities advocates in Washington state.
Karen was recognized by the Developmental Disabilities Advisory Board and Greater Vancouver Chamber of Commerce with the Dennis Campbell Outstanding Service Awards in October 2014 in celebration of National Disability Awareness Month. She also served as Master of Ceremonies for the 2014 and 2016 Clark County Legislative Candidates Forum on Disabilities.
From 2011-2012, Karen served as Committee Chair for Vancouver, Washington's first Sensory-Friendly Cub Scout program and co-authored the Autism and Scouting Leadership Training Manual.  She served as an Assistant Den Leader in her son's Cub Scout pack for multiple years.
In 2013, Karen Krejcha was selected as one of five 2013 Washington State Jefferson Awards winners, only the 3rd time in 46 years that a Vancouver, WA resident was awarded this honor. Initiated in 1972 by Jacqueline Kennedy Onassis and Senator Robert Taft, Jr., this "Nobel Prize" for public service is a nationwide effort recognizing the highest ideals and achievements of volunteerism in the U.S.
Karen and Autism Empowerment were featured in a story on Evening Magazine:
Distinguished Spectrumite Medal Winner – GRASP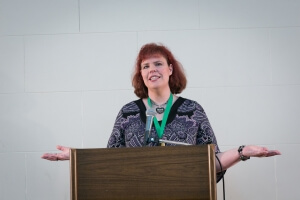 Karen was honored in May 2012 with the Distinguished Spectrumite Medal from the Global and Regional Asperger Syndrome Partnership (GRASP) for her accomplishments as a woman, parent and professional on the autism spectrum.
Other past notable DSM winners include Dr. Stephen Shore (2009), scientist and author, John Elder Robison, inventor and speaker (2010), Temple Grandin (2011), Dr. Liane Holliday Willey (2012), Jennifer Cook O'Toole (2012) and Karla Fisher (2012).
In addition to her work at Spectrums Magazine, Karen has been published in Chicken Soup for the Soul: Raising Kids on the Spectrum, 101 Inspirational Stories for Parents of Children with Autism and Asperger's. (April 2013), The Little e-Book of Autimisms (November 2013, Geek Club Books), the Autism and Scouting Leadership Training Kit Manual (December 2013) and was published as an Aspie Mentor in Been There, Done, That Try This: An Aspie's Guide to Planet Earth (Jessica Kingsley Publishers, 2014), An Aspie's Guide to Disclosing A Diagnosis (Jessica Kingsley Publishers, 2014), An Aspie's Guide to "Faking It" (Jessica Kingsley Publishers, 2014) and An Aspie's Guide to Bullying (Jessica Kingsley Publishers, 2014).
In her spare time, Karen freelances as a guest blogger and speaker at local and national webinars and conferences. She loves watching murder mysteries with her husband and spending time with her kids and cat, Zula.
Donate Today
Help Support Autism Empowerment spread Acceptance worldwide.
We aim to be a positive voice for Acceptance, Enrichment, Inspiration and Empowerment within the Autism and Asperger Communities. With your gift and support, together we positively change the world.
Donate Today