Our Four Foundational Pillars
The four foundational pillars of Autism Empowerment are:
Accept

Enrich

Inspire

Empower



These pillars are part of our organizational core values and are incorporated into our website, our programs, our support services and our community.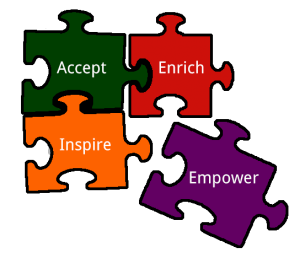 Accept – We strongly promote the unconditional acceptance of those on the autism spectrum. This includes self-acceptance and social acceptance. By accepting each spectrum traveler for who they are, where they are in the present moment, we are promoting autism acceptance and autism awareness in a positive and respectful way.
Enrich – Our goal is to provide educational resources, programs and tools to improve and enhance life skills for those on the autism spectrum as well as their families, caregivers, therapists and teachers. We aspire to make life more meaningful and rewarding.
Inspire – We dedicate ourselves to being a positive and uplifting organization that encourages, promotes and celebrates success in all individuals. We believe each person on the autism spectrum has the opportunity to make a positive difference in this world.
Empower – We strive to empower individuals on the autism spectrum to achieve their highest quality of life academically, emotionally, financially, socially and spiritually.