Autism Empowerment Press and Media Center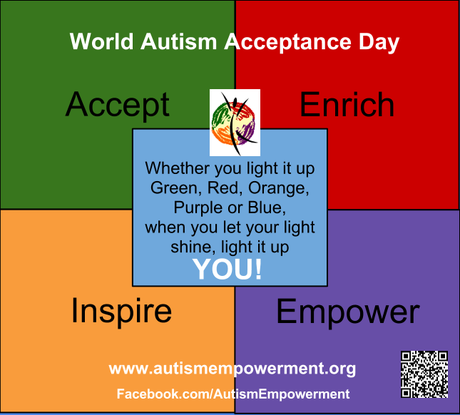 Autism Empowerment is a nonprofit 501(c)3 organization devoted to enriching and empowering the lives of children, teens, adults and families within the Autism and Asperger communities.
The vision we work toward is an inclusive society that accepts and respects all youth and adults on the autism spectrum and empowers each person to reach his or her highest potential.
We serve all ages and abilities. Each of our programs and services promote Four Foundational Pillars of Positivity: Accept, Enrich, Inspire and Empower.
We offer innovative and inspiring programs, training and services and opportunities for leadership and volunteerism for those within and supporting the Autism and Asperger community.
Everyone on our Board of Directors is on the autism spectrum or closely related to someone who is. As proactive autism allies, we believe each one of us is an Ambassador for Acceptance of All Abilities in our home, in our family, in our community and in the world.
Our physical office is located in Vancouver, WA. Most of our local outreach is currently facilitated in the Southwest Washington and Portland metro area, however a number of our programs such as Autism and Scouting, Autism Empowerment Radio, Autism Serves and our Social Media Program have an online and/or media component and serve youth, adults and families regionally, nationally and worldwide.
You will find us collaborating with and supporting other autism and cross-disability related organizations around the world. We also work with organizations that are not autism related because we believe it is important for every person to understand the strengths and challenges that may accompany an individual on the autism spectrum.
While our volunteers continue to add more of our history, please visit our Mission and Vision page, our Board of Directors / Staff page and feel free to email us at this link or contact John Krejcha, Programs Director at (360) 601-4678 if you have Press and Media inquiries.  Thanks!
EarthLink Backs Autism Empowerment's Annual Egg Hunt for Acceptance of All Abilities, Linking Families to Community Resources.
VANCOUVER, WA — March 27, 2014 — EarthLink, Inc. (NASDAQ: ELNK) a leading IT and communications provider, today announced that it provided a grant to Autism Empowerment, a Vancouver-based nonprofit empowering the lives of youth, adults and families in the autism community, to help underwrite the organization's 3rd annual Egg Hunt for Acceptance of all Abilities on Saturday, April 19th from 1 – 4 p.m. at McKenzie Stadium. EarthLink provided this funding as part of its H.A.L.O. program (Helps, Acts, Links and Outreach).
"Autism Empowerment truly appreciates this new funding from EarthLink to enable us to grow what's proven to be an extremely popular community acceptance event," said Karen Krejcha, Executive Director of Autism Empowerment. "EarthLink focuses on linking businesses with the IT technologies they need to thrive. Similarly, our Egg Hunt for Acceptance of All Abilities is not only a fun, empowering day out, but a vital link to the community resources that help families and individuals living with autism and other developmental or physical differences navigate challenges. We feel it's a natural fit."
Brian Tashima, EarthLink Pricing Analyst and Autism Empowerment Board Member, will kick off the festivities by helping to roll out the ceremonial first egg. "This event is also a fantastic volunteer opportunity for the 220 community-minded EarthLinkers based in our regional Vancouver office, and I'm so appreciative for the outpouring of enthusiasm from my work colleagues."
EarthLink will also participate in an upcoming Autism Empowerment Radio podcast to share its philosophy and outreach program linking schools and organizations with assistive technologies. Launched in June 2012, the podcast series has reached over 100,000 listeners worldwide and offers original content of interest to the autism and Asperger community. Past guests include autism advocates, authors, care providers, educators, parents and other professional individuals and organizations.
About Autism Empowerment
Founded in 2011, Autism Empowerment is a grassroots 501(c)3 non-profit dedicated to empowering the lives of youth, adults and families in the Autism and Asperger communities. They offer positive, inclusive community programs, support services and innovative leadership and volunteer opportunities for those on the autism spectrum and their families. Autism Empowerment promotes four foundational pillars of positivity: Accept, Enrich, Inspire and Empower. For more information, visit www.autismempowerment.org or follow @AutismEmpowermt.
About EarthLink
EarthLink, Inc. (NASDAQ: ELNK) is a leading IT services and communications provider to more than 150,000 businesses and one million consumers nationwide. EarthLink empowers customers with managed services including cloud computing, managed and private cloud, and virtualization services such as managed hosting and cloud workspace. EarthLink also offers a robust portfolio of IT security, application hosting, colocation and IT support services. The company operates an extensive network spanning 29,421 route fiber miles with 90 metro fiber rings and 8 secure data centers providing ubiquitous nationwide data and voice IP service coverage across more than 90 percent of the country. Founded in 1994, EarthLink's award-winning reputation for outstanding service and product innovation is supported by an experienced team of professionals focused on best-in-class customer care. For more information, visit EarthLink's website at www.earthlink.net.
Autism Empowerment launches the look of our new website!  Thank you so much to the amazing Michael Glass, Nicole Browning and Wimmer Solutions for consulting and web-design support. Wimmer Solutions donated 40 hours of consulting service to Autism Empowerment in conjunction with Karen Krejcha being a 2013 Washington state Jefferson Award honoree. We are truly appreciative!
Autism Empowerment founder, Karen Krejcha is one of 5 Washington State Jefferson Award Winners for 2013. Karen was presented her award at a special ceremony in Seattle, Washington.
The Jefferson Awards are a prestigious national recognition system honoring community and public service in America. The Jefferson Awards are presented on two levels: national and local. They began in 1972 to create a Nobel Prize for public service. Today, their primary purpose is to serve as a "Call to Action for Volunteers" in local communities. honors ordinary people who do extraordinary things for others. This is the 3rd time that a Vancouver, Washington resident has been awarded this honor since 1976.
As Karen meets individuals along the way in this process, she wants to use interactions as an opportunity to help promote acceptance, advocacy and respect for those in the Autism and Asperger communities. She believes that however those on the autism spectrum identify themselves when talking about our differing abilities as well as our similarities, we should be treated with respect and have the opportunity to be valuable, contributing members of society. We should have the opportunity to let our lights shine and live life to our fullest potential, whatever that might look like for each and every one of us.
See Karen in her appearance on Evening Magazine.
Karen Krejcha, Executive Director with Autism Empowerment is interviewed by Ken Ackerman from Comcast Newsmakers.
Autism Empowerment's Autism and Scouting Program receives a $25,000 Grant from Autism Speaks to produce a Leadership Training Kit that will be distributed in November 2013.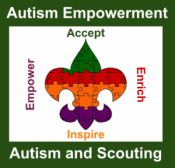 Autism Empowerment is chosen by the local Southwest Washington community as the beneficiary for Kazoodles Toys Neighborhood Toy Store Day event on November 10th, 2012. Thank you to Mary and Bob Sisson for your support and generosity.  Read the full announcement.
Autism Empowerment presents the first broadcast of our sister station, Autism and Scouting Radio at BlogTalkRadio. We are soon added to iTunes as a downloadable podcast.
Autism Empowerment presents the first broadcast of Autism Empowerment Radio at BlogTalkRadio. We are soon added to iTunes as a downloadable podcast.
Karen Krejcha is presented the 2012 GRASP Distinguished Spectrumite Medal by GRASP Executive Director, Michael John Carley in New York City. GRASP stands for Global and Regional Asperger Syndrome Partnership. Their fine organization can be found at www.grasp.org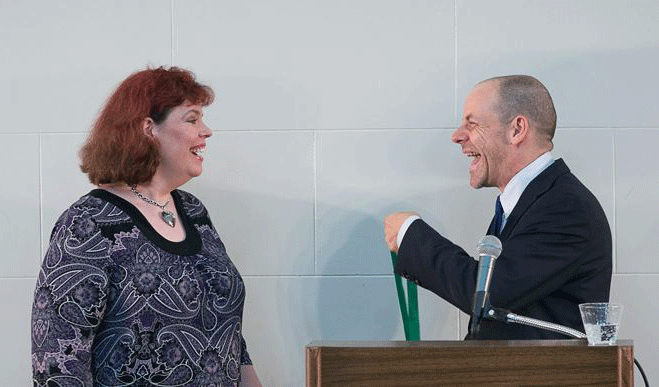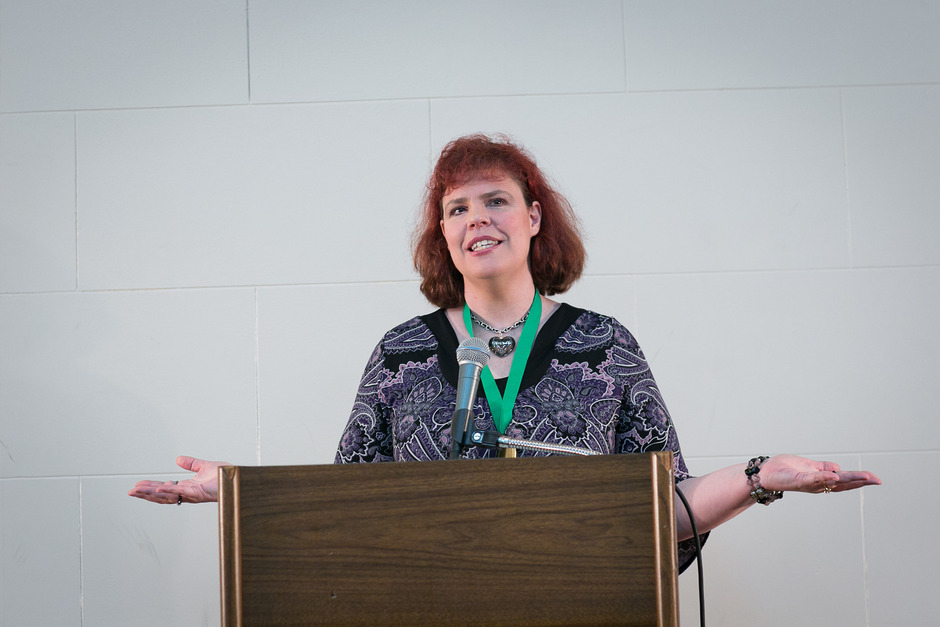 Autism Empowerment hosts our 1st Annual Special Needs Easter Egg Hunt at McKenzie Stadium in Vancouver, Washington. Approximately 450 egg hunters and their families attend for a sunshine-filled day of fun.
Autism Empowerment receives 501c(3) tax-exempt status retroactive to our June 3rd date of incorporation.

Autism Empowerment founds as non-profit public charity in Vancouver, Washington on Friday, June 3rd, 2011. Co-founders Karen and John Krejcha and their two sons drive from Vancouver to Olympia, WA to file official paperwork.