Autism "Rocks"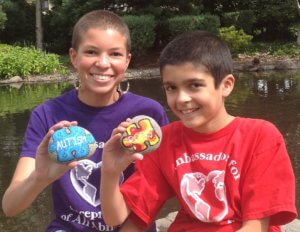 Imani Chapin wants the world to know that Autism "Rocks"! She wants you to rock other people's world by spreading Autism Acceptance locally, regionally, nationally and worldwide. 
Autism "Rocks" is part of the Autism Empowerment Autism Serves Program that is dedicated to encouraging volunteerism, providing service to others and spreading positive messages of autism acceptance and awareness.
The group started in Southwest Washington under the vision of Imani Chapin, a sophomore at Union High School in Camas. Earlier this year, Imani was introduced to a Facebook group called "Vancouver Rocks" which promoted painting rocks and hiding them around Vancouver for others to find. Similar rock decorating groups are in Portland and other communities. Shares Imani, "I immediately fell in love with the idea and the process in which people paint rocks and hide them in their community, all the while searching for other artists' rocks."
Imani believes that theming the rocks with messages of autism acceptance, awareness and positive messaging helps make the autism community stronger. Since September 2016, rocks from Autism "Rocks" painting events have been found and hidden in Vancouver, Camas and throughout the Southwest Washington and Portland, Oregon metro area.
Imani's mom, Angie Chapin shared for a recent feature in Spectrums Magazine, "One of the greatest things about Autism "Rocks" is that it can give each member of the family jobs to do and everybody can contribute, no matter what a person's ability is." Imani added, "One of the best things is that each artist who paints a rock doesn't have to be Monet to still spread autism acceptance and awareness. When I find a painted rock, I'm not looking for perfection. I'm just happy to see people are enjoying art, just like me."
To learn more about Autism "Rocks" and Imani's family inspiration, we invite you to visit and read the Fall 2016 issue of Spectrums Magazine. Autism "Rocks" made the cover! Click the photo to read our article on pages 17, 18 and 19!
If you have a group or an upcoming event in the Southwest WA area, Autism "Rocks" volunteers are willing to come out to your group, provide a message of Acceptance and then teach you how to paint your own Autism "Rocks".
Imani recommends that you first visit Autism "Rocks" on Facebook @autismrockcreation. There you will find active participants that may give you ideas on what to create, more information about Autism "Rocks" and how to host your own rock painting events in the community.
Supplies you will need:
Rocks

Acrylic paint

Paint brushes

Water dishes

Clear spray paint, mod podge, or hair spray

Cardboard or tablecloth (optional, for if painting/spraying gets messy)
Steps:
Find or buy flat, smooth rocks.

Clean the rocks. Using water is perfectly fine.

Trace a puzzle piece on one side of the rock. Inside the piece, write: @autismrockcreation on FB. Keep me or re-hide me! Autism "Rocks".

On the other side, use your imagination to paint your rock and promote autism acceptance. Let your light shine!

After letting the paint dry, spray your rocks, to keep from being ruined by the weather.

Hide your rocks out in the community! Be creative.

Don't forget to take photos of where you hide your rocks, to give people clues as to where they are. Similarly, take a picture when you find a rock; one of the best parts of creating is learning who discovered your artwork!
Be sure to post on the Autism Rocks Facebook Page at www.facebook.com/autismrockcreation and spread the word in social media through the hashtag #AutismRocks
Who do I contact if I have questions?
Please contact Imani Chapin if you have any questions or would like Autism Empowerment and Autism "Rocks" come out to your group to spread Autism Acceptance. 
Autism Empowerment Summer Picnic
My Way Matinee at Regal Cinema Theaters in Vancouver
First Presbyterian Church, Vancouver
Special Celebrations Talent Show
Autism Family Game Night
Special Education Parent Student Teacher Association (SEPTSA) of SW WA
Local elementary schools
Here are some of our original creations
Donate Now
The Autism Empowerment community is YOUR community. It is OUR community.
With your gifts and support, together we positively change the world.
Donate Now