When:
March 18, 2017 @ 6:00 pm – 9:00 pm
America/Los Angeles Timezone
2017-03-18T18:00:00-07:00
2017-03-18T21:00:00-07:00
Where:
The Arc of SW WA Family Center
6511 NE 18th St
Vancouver, WA 98661
USA

Cost:
$10 per family + a snack to share
Contact:
Tara O'Gorman
941-322-4229

SW Washington Tween and Teen Social Club
The SW Washington Tween and Teen Social Club is a game night and social club for tweens and teens, ages 11 to 19 on the autism spectrum who require minimal adult supervision during socialization. Facilitators will periodically monitor the game rooms, but this is an opportunity for our kids to enjoy some independence and have fun with old and new friends.
Parents or guardians must stay on the premises and are invited to join other parents and facilitators in the parent room for connection and friendship.   
Kids are invited to bring their own game devices (Nintendo DS, iPad, iPod, laptop, etc.) or board/card games.  We also have televisions and game consoles available for game play.   There is a space for Legos and crafts for those who want to do something creative. We also have a Teen/Tween Book Club that runs concurrently from 6:30 – 7:30 p.m.
Peer mentors ages 11 and up are invited to attend along with siblings.  We are looking for brothers and sisters who are compassionate, understanding, and interested in spending some time socializing with their siblings and making new friends.
When does the group meet?
The group meets the 3rd Saturday of most months ** from 6:00 – 9:00 pm
2017 Schedule
Saturday, March 18th
Saturday, April 15th
Saturday, May 20th
Saturday, June 17th
Saturday, July 15th
Saturday, August 19th
Saturday, September 16th
Saturday, October 21st
Saturday, November 18th
Saturday, December 16th
** Schedule subject to change based on weather or emergency.
How much does it cost to take part?
The cost for each club night is $10.00 per family. Please also bring a snack to share with others.  We will provide pizza and drinks.  If $10.00 is beyond your capability, please do not let that keep you away. We value you and your family, and we want everyone to feel included and welcome. Bring snacks, offer to volunteer some time assisting with set up or clean up, or talk to us about how you can help our group be successful. There are many ways to contribute if you can. We love our Tweens and Teens and their amazing families!
Where does the group meet?
We are actively seeking a new space to meet that is larger and better accommodates our fantastic group. Currently, the group meets within The Arc of Southwest Washington Family Center which is located at 6511 NE 18th St., Vancouver WA. (This is the same building where Autism Empowerment has our office.) The Tweens & Teens Social Club is facilitated by Tara O'Gorman with the help of a variety of awesome volunteers!
While tweens and teens have the opportunity to socialize and hang out, parents have the option to participate in a casual support group that meets in the back room. This parent support group is currently facilitated by John Krejcha (also facilitates Dads' Support Group).
How do you define minimal adult supervision? Would this be a good fit for my son or daughter?
Youth finding success in the Tween/Teen Club usually have an Asperger or similar kind of autism spectrum profile. We welcome youth of varying ability levels and understand that social and sensory challenges may arise.
The expectation is creating a safe and welcoming environment for all attendees where youth can be social with one another with as little adult interference as possible.
If there is a situation which requires adult mediation, our facilitator, Tara and other volunteers are on-hand to assist. If a situation arises which our volunteers determine to be unsafe or not appropriate and can't be resolved or curtailed (e.g. swearing, spitting, hitting, property damage), the parent/guardian on-site will be expected to assist.
Tween and Teen Club Wish List
We need your help. If you have old game system that you don't use, electronic or board games you no longer play and/or small TVs that could be used to support more gaming systems, please consider donating them. Here is a list of what we are looking for. Wish List
Who can I contact if I have questions?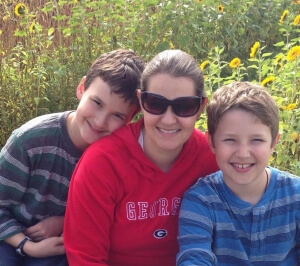 Our social club facilitator and founder is Tara O'Gorman. 
My name is Tara O'Gorman, and I am a proud mom to two sons, including a teenager on the autism spectrum.  
I am an independent consultant and advocate for individuals and families living with Autism Spectrum Disorders and a group facilitator for adolescents and young adults with Asperger's. I have served on the Board of Directors of Autism Empowerment since October 2016 and am also on the Editorial Advisory Boar for Spectrums Magazine.
My vision for the Tween and Teen Social Club is to provide a fun, independent, peer-mentored social group for youth ages 11-19 and a place for families to interact and find support in a safe, non-judgmental environment.
If you have questions about the club, please contact Tara.
941-322-4229
taraO@autismempowerment.org
https://www.facebook.com/groups/aetweenteensocialclub/
If you have questions about Autism Empowerment, please feel free to contact us directly at info@autismempowerment.org or call (360) 852-8369.
We also invite you to join the Autism Empowerment Tween and Teen Social Club Facebook Group. The Facebook group is open to local families throughout the SW WA and Portland metro area, however you will need to request access as we want it to be a safe environment for all our families. Once you request access, you will be contacted by one of our moderators and will be asked to confirm your connection with autism and our region.