Community Calendar and local Autism Empowerment Outreach

Hello! Welcome to Autism Empowerment's Community Calendar page.  We are based in Vancouver, WA in Clark County. This section contains a calendar of upcoming Autism Empowerment  events taking place in the Southwest Washington and Portland, Oregon metro area.
You can view by day, week or month. Click the tabs below and you can view by category, by tag or in a variety of visual viewing formats.
Apr
23
Sun
2017
Strike It Up for Autism Acceptance Bowl-A-Thon 2017

@ Husted's Hazel Dell Lanes
Apr 23 @ 12:30 pm – 4:30 pm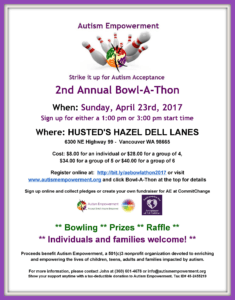 Strike It Up for Autism Acceptance Bowlathon FUNdraiser 
April is Autism Acceptance month! To celebrate and help raise money for Autism Empowerment's programs and services, we're hosting our 1st Annual Strike it up for Autism Acceptance Bowl-A-Thon fundraiser!  Please join us for bowling, a fun raffle and the opportunity to pick up free Autism Empowerment resources.
When: Sunday, April 23th, 2017 from 12:30 to 4:30 PM
Free General Admission for anyone who would like to attend.
Bowling starts at 1:00 PM or 3:00 PM (Please arrive at least 20 minutes early for check-in and to get your bowling shoes and ball.)
Where: Husted's Hazel Dell Lanes, 6300 NE Hwy 99, Vancouver, WA 98665- Vancouver, WA. The center number is (360) 694-8364 for directions.
Cost to bowl:
$8.00 for an individual (any age)
$28.00 for a family/group of 4
$34.00 for a family/group of 5
$40.00 for a family/group of 6.
So that we can reserve your lane, we need you to pre-register by clicking THIS LINK and then clicking the REGISTER button in green (This allows you to choose the time you want to bowl and the number of people who are registering together.)
Cost includes shoe rental, two games on one lane per person and the chance to win fun prizes for bowling! Every bowler receives a participation certificate and a goody bag! But wait, there's more!
Prize Raffle: We will be having many items for youth, adults, and families available for raffle at the Bowl-A-Thon FUNdraiser! (Raffle tickets on-site only.)
50/50 Raffle Tickets: Two drawings. One at about 2 pm and one at about 4 pm
eBay Auction Preview: We will be auctioning higher value items at eBay to raise money for Autism Empowerment
We also invite you to FUNdraise and help us reach our goal of $10,000.
The goal for this event is $10,000, although we're happy to go higher! Funds that are raised will be used to support all the different programs that we offer. To reach and exceed this goal we are hoping for the help of each person that sees this page! You don't even have to bowl to donate or raise funds!
You can fundraise in multiple ways:
 Start a personal fundraising page for Autism Empowerment at CommitChange at the following link: https://commitchange.com/peer-to-peer?npo_id=4131.
Make a donation using that green heart donate button on the right!
Take a pledge sheet to friends, family and around your neighborhood or workplace to gather pledges. We will email you a packet after you register or you can download the pledge sheet by clicking here.
Mail a donation to Autism Empowerment, P.O. Box 871676, Vancouver, WA 98687. As a 501(c)3 charity, donations are tax-deductible. Check are payable to "Autism Empowerment". Please indicate "Bowl-A-Thon" with your payment and we will mail you a receipt.
Can't make the event but want to help out with a donation? Just click that nice looking green donate button on the bottom! THANKS!
Remember, if you'd like to bowl, please pre-register online at THIS LINK! <– 
Sep
7
Thu
2017
G6 Airpark and Autism Empowerment Free Sensory-Friendly Jump Night

@ G6 Airpark
Sep 7 @ 6:30 pm – 8:30 pm
G6 Airpark has generously partnered with Autism Empowerment to provide a free Sensory-Friendly Jump Night for youth, adults, family members and friends in the Autism Community within the SW Washington and Portland Metro area on Thursday night, September 7th from 6:30 – 8:30 PM.
Where: G6 Airpark – Vancouver Location
2200 NE Andresen Rd Suite J, Vancouver, WA 98661
When: Thursday, September 7th, 2017 from 6:30 – 8:30 PM
What will make this event more Sensory-Friendly? – We are limiting the number of people who can jump so jumpers can spread out throughout the trampoline airpark. Music volume will be turned down lower than during regular hours. 
How Much: FREE* but a RSVP with the number of jumpers of jumpers is required to attend. A signed waiver is required to jump.
*G6 requires that Grip Socks are worn which they sell for $2.00 a pair or bring your own G6 Grip Socks. If socks cost is a hardship, let us know when you RSVP and Autism Empowerment will cover the cost.
Space is limited and a response in advance is required.
To RSVP or for more information and/or if you would like to help with this event please contact us at: (360) 852-8369 or info@autismempowerment.org
Visit G6 Airpark's website at www.g6vancouver.com (Jump waiver can be filled out on-site or at the website)
http://g6vancouver.com/events-and-parties/
THANK YOU SO MUCH to G6 Airpark for your GENEROUS SPONSORSHIP of this event!