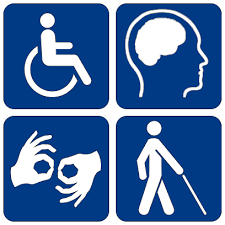 Southwest Washington Disability Alliance
The Southwest Washington Disability Alliance formed in January 2015 as a collaboration of nonprofit organizations, self-advocates, families, agencies, support groups, and businesses within Southwest Washington and the Portland Metro area. Although our work focuses on serving individuals and families in Southwest Washington, we are dedicated to collaborating with regional and national groups interested in promoting positive health outcomes for all individuals living with disabilities from birth throughout the lifespan.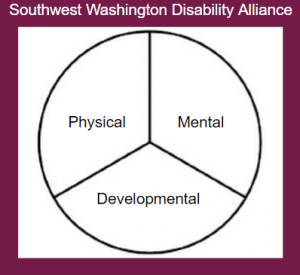 Through a generous grant from the Northwest Health Foundation's Healthy Beginnings + Healthy Communities (HB+HC) initiative, members of SWWADA are meeting and facilitating connections with community members throughout 2015 to assess resources, assets, needs and priority issues for our community. We devote ourselves to including youth and adults who identify with disabilities as an integral part of conversation, decision-making and leadership.
Our work as part of the Healthy Beginnings + Healthy Communities initiative has a particular focus and commitment on healthy births, kids ready for kindergarten, teenagers prepared for high school and young adults prepared for the transition to higher education and employment.
We also seek to expand relationships with self-advocates, parents, educators, service providers as well as members of regional groups that connect with faith, mental health, recreation, and overall wellness.
Let's build a more positive and inclusive community together!
Our disability alliance aims to build the capacity of our members and our community to support individuals who identify with any disability, including physical disability, developmental disability, intellectual disability and mental health related conditions. We respect the right of people with disabilities to identify and describe their disability with the language they choose. For many people, this includes identity-first language, for others it includes people-first and for quite a few, it is a combination of both, depending on the circumstances.
Would you like to share your input? We currently have the following survey open, and it should take about 10 – 15 minutes of your time. Not all questions are required and no personally identifying information will be shared. If you could take a few moments to fill out this survey, this will better assist us with the work we seek to do.
We've been interviewing individuals throughout our community connected with a disability, including self-advocates, parent advocates, family members, educators, service providers, medical professionals, foundations and other interested parties.
Gabriela Ewing – Community Spanish / Latino Outreach Volunteer for Autism Empowerment and several organizations
Neatha Lefevre – OTR/L and Board Member of Autism Society of Southwest Washington
Who can become a member of SWWADA?
If you are a self-advocate (person identifying with a disability), parent advocate, nonprofit, agency or business within Southwest Washington or the Portland Metro area that supports individuals with a developmental, physical or mental disability that has a positive and accepting attitude, we welcome you. We aim to uplift our community and make it a stronger and healthier place to live, play and pray.
How can I become a member of SWWADA?
Please contact John Krejcha at swwada@autismempowerment.org and he will be more than happy to provide you more details on the monthly meetings and ways that you can support the proposed work. Southwest Washington Disability Alliance currently operates under the umbrella of Autism Empowerment.
360-852-8369
swwada@autismempowerment.org