Meet the Host at Autism and Scouting Radio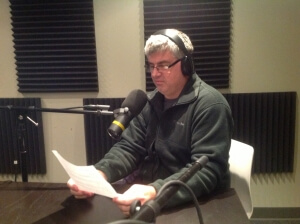 John Krejcha has been serving as the host of Autism and Scouting Radio since the program's inception in July 2012.
John is currently serving as Vice President of Operations of Autism Empowerment and Program Director for our Autism and Scouting Program. John has worked for the past 14 years as the co-owner of a successful international online retail business. Prior to that, he worked in both outside and inside sales, service and accounting for a Fortune 100 company. He is a veteran of the United States Navy.
John is a volunteer with the Boy Scouts of America as an Assistant Scoutmaster and has also served in a number of Cub Scouting leadership positions.
John is currently a trainer of scout leaders in the area of Autism Awareness and Acceptance through Autism Empowerment's Autism and Scouting program. He loves to inspire and teach other parents and leaders within all scouting programs in their quest to help enrich the lives of youth with autism spectrum and other related co-conditions. John's passion to provide the tools and resources that will help others achieve their goals has inspired him to write a book about Autism and Scouting.
In addition to his volunteer work with Autism Empowerment and the BSA, this is John's 3rd year teaching chess in the after school program at a local elementary school and helping to make school events more sensory friendly.
He also serves on the Southwest Washington Special Education Conference and Resource Fair committee. He is also a member of the Community Autism Network (CAN) that serves all ages and abilities with ASD in Southwest Washington.
John is the father to two amazing sons on the autism spectrum and is husband to a wife (Karen) diagnosed with Asperger's. He is dedicated toward their success and happiness.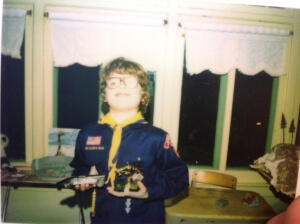 Although John personally spent less than two years in Cub Scouts, he watched his older brother enjoy Boy Scouts. That had always stuck with him as a positive experience.  When John's oldest son was in the second grade, he and his wife asked their son if he wanted to join Cub Scouts. He did and the scouting experience started to flow back into John's blood.
In 2008, after both of his children were officially diagnosed on the autism spectrum, it was clear that his mission in scouting was to support not only his two amazing sons but to help others that were scouts feel that they had a place to belong and could be themselves.
To learn more about the history of the Autism and Scouting Program, click the Autism and Scouting History Page:
Autism and Scouting History Page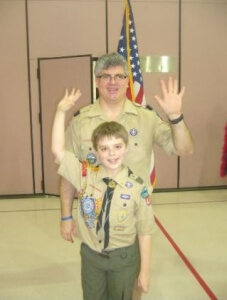 John has earned the Den Leader Training Award, Scoutmaster Training Award and is currently finishing work  toward earning his Woodbadge Beads.  In local scouting in California and in Washington, he has served as an Assistant Den Leader, Den Leader, Webelos Den Leader, Assistant Scoutmaster and was also the Unit Commissioner and co-founder for the first ever Sensory Friendly Cub Scout Pack in Vancouver, WA.
In 2014, was asked to join the BSA National Special Needs Committee and will be a voice in helping shape the conversation when it surrounds working with youth of all abilities.
In addition, to his volunteer work with the Boy Scouts, his true calling is the work he is doing with Autism Empowerment and the Autism and Scouting Program. Providing training to leaders that will directly work with the youth is a very meaningful way to help shape attitudes and spread acceptance.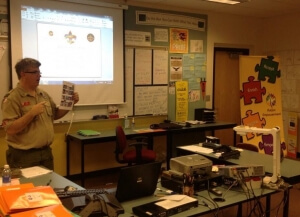 John and Karen have trained hundreds in the Pacific Northwest and have shared Autism and Scouting Program training with volunteer trainers throughout the United States and internationally so that they can share with their groups.  A big goal is to support meaningful change in how volunteer leaders work with youth who are on the autism spectrum and with other neurological differences. Scouting should be a positive experience for all and our sons and daughters on the autism spectrum need to be included and respected. Change often starts with Acceptance.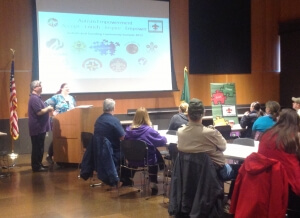 In December of 2013, Autism Empowerment hosted the first cross-scouting organization Community Summit which provided training on working with youth on the Autism Spectrum. It was a huge success and hope to do this again in the future.
One of the ways John helps Autism Empowerment reaches out beyond the Pacific Northwest is through hosting Autism and Scouting Radio and also appearing on Autism Empowerment Radio where he sometimes co-hosts with his wife, Karen Krejcha, Autism Empowerment Executive Director
Accept, Enrich, Inspire and Empower are not just buzz words. It was a way of life just like living by a scout code or law.
We want to hear from you, we want to know what kind of things are important to you and what kind of support we can bring. Together we are stronger.
Donate Today
Help Support Autism and Scouting spread Acceptance worldwide.
We aim to be a positive voice for Acceptance, Enrichment, Inspiration and Empowerment within the Autism and Asperger Communities. With your gifts and support, together we positively change the world.
Donate Today