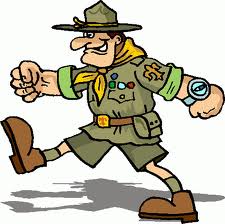 Just as if there were no scouts, without the tireless dedication of scout volunteers, there would be no scouting units. Scout volunteers often spend a great amount of time helping youth and being positive role models. Ideal scouting volunteers are passionate and dedicated to empowering the youth that they serve have a positive, fun and meaningful scouting experience.
There are some scouting volunteers that go above and beyond the initial required training. These are what we like to call proactive volunteers, men and women dedicated to better themselves so that they in turn can help empower others.
You realize you are balancing many things in your life and we thank you for visiting. By coming here today and taking time to explore the information and resources at the Autism and Scouting Program pages, you are setting yourself apart and going above to make sure that that youth who are on the autism spectrum in your unit are Accepted, Enriched, Inspired and Empowered.
Thank you so much for your dedication. We hope the information that you find both within the Autism and Scouting Program and on the Autism Empowerment website will make your life journey and the journey of the scouts that are under your care more meaningful. Should you like what we're doing and wish to get involved sharing your wisdom, time and resources, we welcome your support.
Each section will have clickable links to get to the information that you are seeking.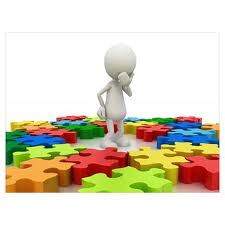 There is a popular saying in the autism community,"If you've met one person with autism, you've met one person with autism." The founders at Autism Empowerment first heard those words when listening to autism expert Dr. Stephen Shore address the audience at the 2009 Autism Society of America Annual Conference in St. Charles, Illinois.
What Dr. Shore was conveying and how it translates into scouting is that Autism is a Spectrum Disorder and no two individuals on the autism spectrum are the same. Just because you have worked with one scout with autism or Asperger syndrome in the past, the next scout may be very different and not react the same. (Even the same scout can react differently in different situations.)
Autism Empowerment and the Autism and Scouting Program is dedicated to making lives better and more meaningful for individuals in the Autism and Asperger communities, their families as well as their caregivers.
As scout volunteers and leaders, we consider you caregivers because of your direct contact with the scouts on the spectrum under your care.
In this section, you will find direct resources that will help you learn about Autism and how to best work with the scouts under your care.
Resource Library
Scouting Support and Resources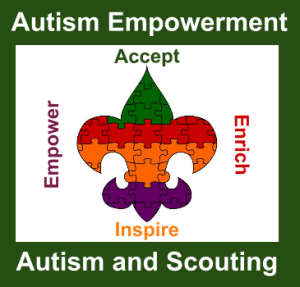 Autism Empowerment is currently the only non-profit organization specializing in Autism and Asperger support that has an international program dedicated to supporting youth, teens and adults on the autism spectrum in a scouting setting locally, nationally and worldwide.
There are local programs that support scouts with disAbilities or that are designated for "Special Needs Scouting" or Sensory Friendly Scouting. Certainly there are many units out there that embrace and welcome individuals of all abilities.  This is something we promote also.
Autism Empowerment is not affiliated with any one scouting organization however we do want to provide Autism and Scouting training and support material to all scouting organizations that are interested. We appreciate the opportunity to be a community partner that does not compete with your organization but instead complements it.  We desire to serve youth, teens and adults on the autism spectrum as well as the families and leaders that help them in their scouting journey. Most information that we provide is geared toward a "general" scouting audience and can be adapted to your particular organization accordingly.
In order to better serve we have these areas for you to access and use.
Resource Center – Topics in General Terms
Scouting Resource Library – Topics that are related to Scouting (Coming October 2013)
Autism and Scouting Radio – Learn via Podcasts 
Autism and Scouting Blog – Topical Information
Autism and Scouting Resources – Links and Other Information
Autism and Scouting Training – Training
Ways to Connect AutismandScoutingInfoSheet (downloadable PDF)
Ways to support Autism and Scouting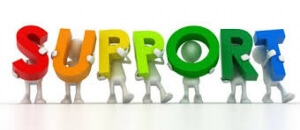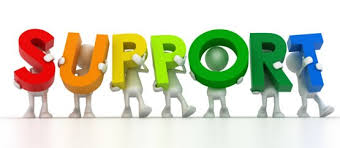 The Autism and Scouting Program is part of Autism Empowerment. We are a 501(c)3 non-profit organization that relies on the generosity of public donations, funding and grants to sustain and expand our programs and services.
Your kindness and generosity help improve the lives of scouts on the autism spectrum as well as their families. Please consider supporting the Autism and Scouting Program. There are many ways you can do so.