Autism and Scouting Training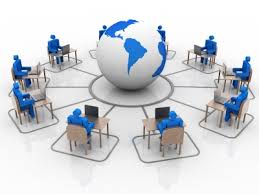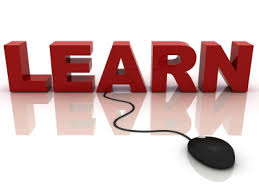 Autism Empowerment believes in the positive benefits that scouting can have for youth and adults on the autism spectrum.
We are pleased to enhance and promote the Scouting Movement through various volunteer and leadership training options. Over the next few months, we will be adding different training that we produce and that we get permission to post. Please feel free to share this training in your units with reference to Autism Empowerment and our Autism and Scouting Program where applicable.
Autism Empowerment Leadership Training Kit
The Autism and Scouting Leadership Training Kit is now available to order.  This 93 page Training kit comes with a CD with over 200 pages of additional training as an Autism and Scouting Leadership Patch.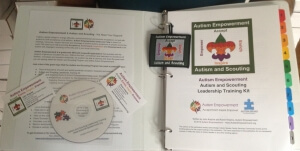 Order the Leadership Training Kit here :  Leadership Training Kit 
The Autism and Scouting program is happy and pleased to offer training that scout leaders and parents can plug into around the world via live or recorded webinars. 
To learn more about the Webinars click here :  Webinars for 2014
General Scouting Training
Do you have an autism or special needs training module that you would like to share with Autism and Scouting visitors? Please let us know!
23 Autism and Scouting Tips
 – download the PDF file
 Teaching Knots to Scouts with Poor Motor Skills
 – download the PDF file – created by Jennifer Reid (Scout Leader GA) Here is a link to over 50 pages of additional resources you can download and access.
Additional Online Training 
Disclaimer: Autism Empowerment is not affiliated with the Boy Scouts of America, Girls Scouts of America or any scouting organization. We are happy to provide training and leadership volunteer services for scouting organizations upon request. Autism Empowerment always holds a policy of non-discrimination and acceptance.
Girl Scout of Colorado "Including All Girls Patch Program"
– This was created by the Girl Scouts Council of The Nation's Capital educates girls about inclusion and how they can include girls with disabilities in all aspects of Girl Scouting. The Patch program is intended to heighten Girl Scouts' awareness, understanding and acceptance of people's differences and disabilities.  
Including All Girls Patch Program
(this will take you to the PDF)
 Girl Scout "Try It: Beautiful Mind"
Girl Scout Special Needs Awareness Badge. Girl Scout Troop 2702 (This was NOT produced by Autism Empowerment but was submitted as a Girl Scout "Try it"
Please note that the two Autism and Scouting and Training is currently being revised and the 2014 training will be posted by mid January 2014.
Autism and Scouting 2013A
download this Powerpoint (this can be adapted to a variety of unit types, not just Boy Scouts)
Autism and Scouting Advanced 2013
– download this Powerpoint  (this can be adapted to a variety of unit types, not just Boy Scouts) ADHD Training – 
Grab Bag of Tricks
  download this Powerpoint  (this can be adapted to a variety of unit types, not just Boy Scouts)
Autism and other related Support Information
Sensory Overload Video
 from 
Miguel Jiron
 – Some people with autism have difficulty processing intense, multiple sensory experiences at once. This animation gives the viewer a glimpse into sensory overload, and how often our sensory experiences intertwine in everyday life.
Here is your chance to plug into Autism and Scouting Training 
* Note: In the future, we plan to have an events calendar specifically for scouting where you can search for events in your area *
BSA University of Scouting, OH
Autism Empowerment Autism and Scouting Training will be provided
Where: Oberlin, OH
When: Saturday, March 1st 2014 :  8:30 – 4:00  –  Website Link
Kids Included Together (KIT)
–  KIT provides best practices training to help communities, businesses, and child care & recreation programs include children with all kinds of disabilities and special needs. We offer a blended–learning approach that combines live, on–site training and online learning and resources.
Donate Today
Help Support Autism and Scouting spread Acceptance worldwide.
We aim to be a positive voice for Acceptance, Enrichment, Inspiration and Empowerment within the Autism and Asperger Communities. With your gifts and support, together we positively change the world.
Donate Today