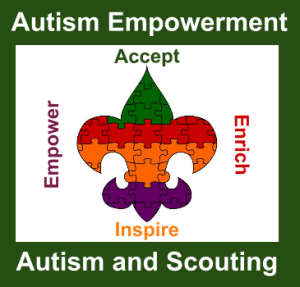 Autism Empowerment and the Autism and Scouting Program are dedicated to changing the world by making life better and more meaningful for Scouts and families in the Autism and Asperger communities locally, nationally and worldwide.
Autism and Scouting
is proud to be a featured program of Autism Empowerment serving scouting families in over 50 countries.
We serve all ages and abilities and promote 4 Foundational Pillars of Positivity:
Accept
Enrich
Inspire
Empower
One way we promote our mission through service is to help scouts, families and leaders become connected with autism-friendly units in their region. With the support of scouters worldwide, we are able to identify and share scouting units around the world that have committed to work with scouts who are on the autism spectrum. Please read the disclaimer about the units that are listed.
Autism and Scouting World Map
Africa
Please click on a region to locate and learn information about currently listed units (units coming soon). Areas which are currently grey will be filled with color when we get unit responses from those countries. As this is a newly added feature to the Autism and Scouting Program and to our website, please spread the word so this can become a valuable resource worldwide!
How to Get my Unit, District, Council or Program Listed
Please submit the following information:
Name of the Unit
Mailing address
Contact Name(s), position, email address and/or phone number
Any Social Media Links or Website links for your program
Any special information you'd like to share (optional)
In order to be listed, we also need to have an e-mail or letter by one of the unit leaders committing to the following for your unit:
To practice inclusion and accept scouts into your unit of all abilities.
To provide a sensory break area or have a plan in place to provide breaks for scouts that may need one.
To show acceptance and work with each scout's family to make sure they are also part of each scout's journey. This also helps the unit leadership understand any strengths, learning styles, challenges or triggers that each youth may have.
To provide youth and adult training on disability awareness at least once every twelve months.
To be willing to learn about autism, ASD and any other co-condition the scout is living with.
The Autism and Scouting Program is happy to provide you with leadership and volunteer training resources upon request. We highly recommend having each scout in your unit have a sensory questionnaire or profile on file.
Submit to scouting@autismempowerment.org
World Unit Locator Disclaimer
The content contained on this website
is for informational and support purposes only. Autism Empowerment and the Autism and Scouting Program does not personally make any recommendation or endorsement of any unit, organization or scouting leader. You should always check references and visit any unit that you may have interest in having your youth join. This website contains links to other websites which are not under the control of and are not maintained by Autism Empowerment or the Autism and Scouting Program. Autism Empowerment does not make any warranty, express or implied, about the accuracy or reliability of the information at this website or any other website to which this site is linked.
Donate Today
Help Support Autism and Scouting spread Acceptance worldwide.
We aim to be a positive voice for Acceptance, Enrichment, Inspiration and Empowerment within the Autism and Asperger Communities. With your gifts and support, together we positively change the world.
Donate Today