History of the Autism and Scouting Program
Autism and Scouting Program History Page
by John Krejcha – Autism Empowerment co-founder, Autism and Scouting Program Director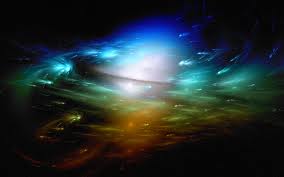 The birth or the beginning of the Autism and Scouting Program has its roots in something much bigger than one person or idea. For John Krejcha, it was a calling that could not be denied. The story and history of the Autism and Scouting Program from Autism Empowerment is much more than just a list of dates and facts, it is a Journey.
On this page you will find much more than just an Autism and Scouting history lesson; you will find a story of receiving a calling from God to fulfill a need in the scouting community, in the autism community and in the community which each of us live.
One would think the story might start when Autism Empowerment was officially founded in June 2011, however it was an idea and a mission before that time. The founders of Autism Empowerment believe that it is important when looking at the history of the Autism and Scouting Program to share the story of the Journey and the emotions that were felt in the process.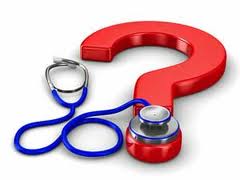 In 2008, our youngest son who was about a year and half old started to regress in many areas of his development. Verbally, he stopped saying words that he had previously vocalized. Instead to communicate, he would grunt and point. Instead of waving "hi" with his palm side, he would wave to us with the the back of his hand.
He would also regularly stand in one spot and then spin in circles. He had a fascination with turning lights on and off and then slamming doors. He was either incredibly active or he would spend periods of time sitting still quietly while lining up toys. Cars were his favorite.
This was much different that our older son who appeared to have typical verbal development without regression and who enjoyed interacting at length with adults. He could spend hours at a time hyperfocused on his computer games. He would talk about a favorite subject for long periods of time and often spent hours reading and re-reading technical manuals.
Wanting the best for our younger son and knowing there was something different going on, we took him to medical clinicians for a full medical evaluation. We watched for three to four hours as a wide range of medical staff performed a multitude of tests that to his mom and me seemed like games. Finally at the end of the appointment, the lead doctor took us to a small room and in a quiet voice, she said that our son had autism. We were given a packet of general information and told that we should book an appointment for a follow-up in four to six weeks. I don't think she said "good luck" but it felt like it. I would imagine that the doctor had given this diagnosis talk many times and perhaps was a bit desensitized. For me  it was like a bombshell being placed in my lap with everybody running away. For my wife, Karen, it confirmed what she had suspected based on research she had been doing online and a gut feeling.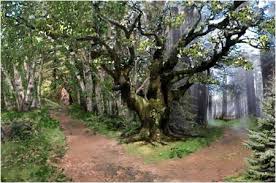 When we got home from that day until today, the learning process has been non-stop. I suppose it will always be that way. But it was really from that moment that I realized our family was starting down the proverbial road less traveled. My wife, who we always called the "Google Queen" for her ability to research online started immersing herself in anything and everything autism spectrum related. I learned my fair share as well.
As we started to learn more about Autism and other autism spectrum disorder classifications, it became clear that our older son was on the autism spectrum as well with Asperger syndrome. He received his diagnosis of Asperger's about a month and half later. It was after we had returned from his first ever Cub Scout summer camp.
Going into that camp, I was my son's den leader and was actively engaged in his scouting experience. I was still in the early stages of learning about Autism, Aspergers, Sensory Processing Disorder as well as many of the other co-conditions that could be associated with autism. It was quite an overwhelming time emotionally, physically, fiscally and spiritually.
While at camp some of the sensory issues that often accompany children with Asperger's arose. I was able to handle them as best I could and the camp staff was wonderful and did their best too. What seemed like the bigger challenge were that other parents and many volunteer leaders did not understand what was going on or how to best work with the challenge when sensory issues arose.  It was one of those things where you try to be proactive but end up being more reactive instead. We got through that summer camp just fine but the experience stuck with me. What could other adults and I have done to make it better not just for my son, not just for kids on the autism spectrum but for all scouts and their families?
The next year was a challenge for our family as it felt like we were always on the go. It seemed like we had therapy session after therapy session for both boys and although both made great progress, it was at times quite overwhelming. It was fortunate that my wife and I worked from our home as far as flexibility, however being self-employed also meant less hours worked, less earned.  There was discussion of me stepping down as my older son's Den Leader but we thought that it was best that I stayed to provide support when needed and to keep a consistent routine for him and the other boys in his den. Also, during that year and a half my younger son had made a tremendous amount of progress. We always tried to stay optimistic and called a lot upon our faith. We learned a lot from the therapists who came to our home and who we traveled to. We thought if we could learn the techniques they used and implement them ourselves, then there would be less time our kids would have to spend at appointments and more quality time they could have for other things.  We were encouraged as our younger son first began to sign and then gradually started using verbal communication.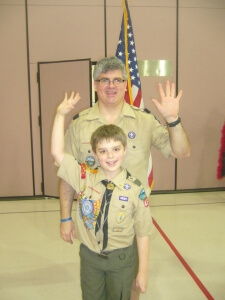 Then in 2010, it was a huge year of transition as far as scouting was concerned. It was the year my older son finished up his Cub Scouting days and crossed over into Boy Scouts. Our older son had been in Cub Scouts at that point for four and half years. I was a Den Leader for three and half as well as an Assistant Den Leader for a year. He had been consistently with a small group of boys and my wife and I wondered how he would do at a different location with many other boys, almost all bigger, almost all older.  The troop that he was moving into wanted me to come over and start right away as an Assistant Scoutmaster but with all of the family things going on, we felt it was time for me to take a break.
In August of 2010, it was my son's first Boy Scout Summer camp and although we had faith and knew he would do fine, it was decided that I would go along for the first few days in order to help him to get settled. I would then return at the end of camp to make sure things were all okay.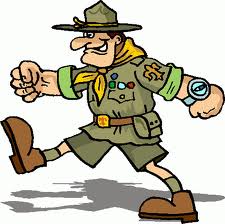 It was at this camp during the first few days that the Autism and Scouting idea and concept was born.
During the first day, the troop was doing a swimming check when I saw something that really opened my eyes as far as a need for scout leaders to be trained to work with scouts who are on the autism spectrum and/or have sensory issues.
One of the boys from another troop I could tell was having major sensory issues from the sand. I don't know if he was on the autism spectrum or not but from what I was observing, it seemed there was a pretty strong chance. At the time, I was in learning about how sensory processing challenges can adversely affect children with autism and how sometimes what looks like a behavior issue is a sensory challenge. I can identify these much better 3 years later but it still isn't easy as they often look similar and I am a parent and not a medical professional. In this particular case, the scout with his challenge was having a meltdown and the scoutmaster in question was acting as if the scout should just charge up the hill because it is a hill. He had no interest in learning why the boy was upset or trying to make it better for him. He just wanted the scout to complete the task he had been assigned and move forward.
The young scout had no chance for success being met with a "suck it up" attitude. My heart sank and I felt for him but unfortunately I was not in a physical position at that time to go lend a hand.  That night laying in my rack, I tried fall asleep by focusing on the sound of the ocean waves hitting the beach. Instead I was met with an unpleasant chorus of other scoutmasters snoring. Through adversity often comes great strength. Inspiration struck and a calling much greater than me was born.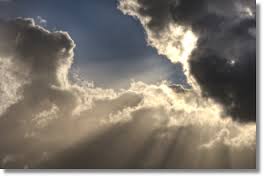 While I was laying there, I felt that I was being drawn to seek out and help youth that were not getting the support or assistance they needed. What could I do to help provide a more positive experience for scouts on the autism spectrum? What could I share with my fellow scouting volunteers to help them better understand, support and serve the youth they worked with? Laying there for who knows how long, I was no longer focused upon a cacophony of snores. Instead my mind raced, wondering what kind of information and resources I would find when I got home and searched the internet.
I thought for sure there with there being an abundance of information about autism online that there were probably manuals or support groups formed already specifically to do with helping support youth on the autism spectrum in scouting. At the time, the prevalence rate was 1 in 110 diagnosed on the autism spectrum and that would mean quite a few scouts. I was excited to get home, talk with my wife, connect with existing resources, and put my paperwork in to become an Assistant Scoutmaster. As a parent of two sons on the autism spectrum, I felt called to be a vessel in my local scouting community to make sure that boys who were experiencing adversity in their scouting units would now have resources for their parents to share with scouting leaders.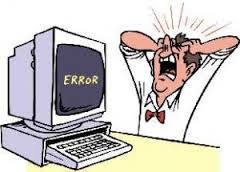 So I returned home mid-week and after a quick update of how our oldest was shining and doing wonderful with the transition, I took a long shower headed off to the computer to learn what relevant and meaningful tools, strategies and resources I could find to share with the autism community and scouting community in my local area.
After hours of searching online, I found only a handful of resources. Most related to physical disabilities or disability awareness in general. Few were specific to autism or other "invisible disabilities".
I knew I must not be alone. I knew that there had to be something more. Scouting by its nature often included noisy activity and camping trips are often filled with opportunities for sensory overload. I called our local council and was given a contact.  A-ha! This must be who had all the hidden resources. This is who was going to had the key to unlock the door that had tools and strategies to assist well-meaning volunteers work more effectively with scouts on the autism spectrum. After a few exchanges of e-mails, it became clear that there was no such golden chest filled with golden doubloons of knowledge. Whether it was hidden in the Bermuda triangle or buried somewhere deep on the ocean floor, the instruction manual I was seeking was beyond my reach.
I went back to summer camp a  few days later to pick up my older son. Despite his limited and self-imposed restricted diet (which the other leaders were quite concerned about despite me advising before I left that it was going to be a challenge) he did amazingly well and completed three merit badges. His mom and I were so proud of him.  He had persevered. He had fun. He had a positive scouting experience.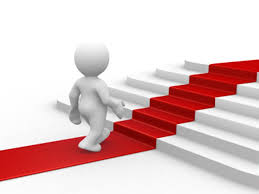 What was next step? Not much to go with online. Not many resources available at a local level.
I knew that I had a calling and strong sense to take action, not only to help my sons but others as well. I knew that others out there had to be searching for resources and support too. I'm sure it wasn't just locally. Surely others around the nation and the world had a similar need and interest?
A week and half after getting back from that camp, the Autism and Scouting Facebook group was formed on August 27th, 2010.
At the time it was a Facebook group for whomever was interested in joining. The group was set up where parents and scouting leaders could come together to provide support for each other and come up with ways we could each better serve the journeys that our scouts were on. Men and women on the autism spectrum that were in scouting (past or present) were also encouraged to join. If a person or groups wants to learn about autism and Asperger syndrome but doesn't respectfully include adults on the autism spectrum in the conversation, they're missing out on the best and most obvious autism experts one can possibly find.
By January 2011, just a few short months later, we were nearing 75 group members who had found us from word of mouth. It was clear that there was a need… and that people were interested in resources and support. How to reach them?
Around this time, my Love of my life Karen, received her own diagnosis of Asperger syndrome. She knew before she was diagnosed that it was coming. The hardest part of the process was over a year and a half of navigating through medical hoops and loops and waiting lists. Karen had been blogging about autism and Asperger syndrome at a personal blog, Aspierations. I remember her feeling relief at the diagnosis and believing that since her diagnosis was a long time coming that something needed to be done to speed the process and make sure that adults on the autism spectrum had more support too.
We had many conversations from the time our sons were diagnosed up until and beyond after Karen was diagnosed. We both knew that something different was happening inside each one of us and that our marriage, partnership and parenthood was different than it had ever been.
During one of these conversations, Karen expressed clearly that she felt called to make positive change in the world for the entire autism and Asperger community. We were not yet sure how that would look but I knew I would be included in that journey and that the calling of my own I had felt in August 2010 was a part of that process.
On April 17th, 2011 I started blogging through Blogger at what I called the "Autism and Scouting" blog. (Most of these posts are in the process of being moved to the Autism Empowerment website) It was becoming clear to me that the Autism and Scouting Group needed to have more functionality, so on April 29th, 2011 we started the Autism and Scouting Facebook Page. We now had two ways to reach the scouting community.

On June 6th, 2011, Autism Empowerment was founded in the state of Washington as a non-profit organization with a mission dedicated to making life better and more meaningful for individuals and families in the Autism and Asperger communities locally, nationally and globally.
We serve all ages and abilities and promote 4 Foundational Pillars of positivity:
Accept, Enrich, Inspire and Empower
Karen and I feel compelled and called by God to help make positive change in the world… not just the local community, state or nation… but the world.  It's sometimes hard to explain to people that don't understand. We don't see ourselves as in competition with other organizations. We see ourselves as different and try to be a positive and innovative complement to what already exists. There is already too much negativity in the world. We prefer building bridges of positivity, community and collaboration instead.
Just as a scouting code, oath or law are not just words to be taken lightly, we believe that our 4 Foundational Pillars are not just cool sounding corporate buzz words. Accept, Enrich, Inspire and Empower are a way of looking at life and the concepts are embedded into every program and service we offer.
In our planning for the non-profit, it was clear that the overall mission would be to have programs that supported the founding pillar and that one of the different programs that we would offer would be the Autism and Scouting Program.
On September 18th, 2012 Autism Empowerment received its IRS 501(c)(3) non-profit confirmation letter. We were now a tax-exempt non-profit eligible to fundraise and apply for grants.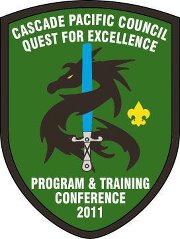 In the fall of 2011, we were asked to give a training at the Boy Scouts of America's Cascade Pacific Council's Program and Training Conference.  On November 5th, 2011 we gave our first Autism and Scouting Training. We had 15 people signed up for the class and we had 35 attend.  All of the seats were taken and people were sitting on the floor and standing in the back of the room. I was nervous, excited and humbled.
The training was again given in 2012 and we added an advanced class and basic class. We shared our presentation slides with volunteers and organizations that requested them. As such our training was shared with scouters in Oregon, Washington, Illinois and South Carolina. In 2013, the training will be shared with volunteers and scouters in Oregon, Washington, Illinois, Colorado and New Jersey. It will also be given online in podcast and webinar form at the end of the year.
At the end of 2011, the Facebook group had around 100 "likes" and the Page had about 200 members checking in from 10 different nations. It wasn't just a stagnant group or page where people "liked" and never came back. There was a lot of active conversation and sharing.  The need and thirst for information was growing. I learned something new on a regular basis. It was like a huge scouting think tank with amazing people contributing and sharing stories of inspiration from all over the world.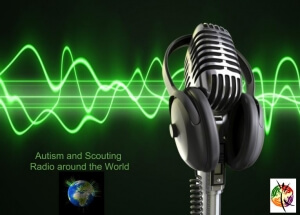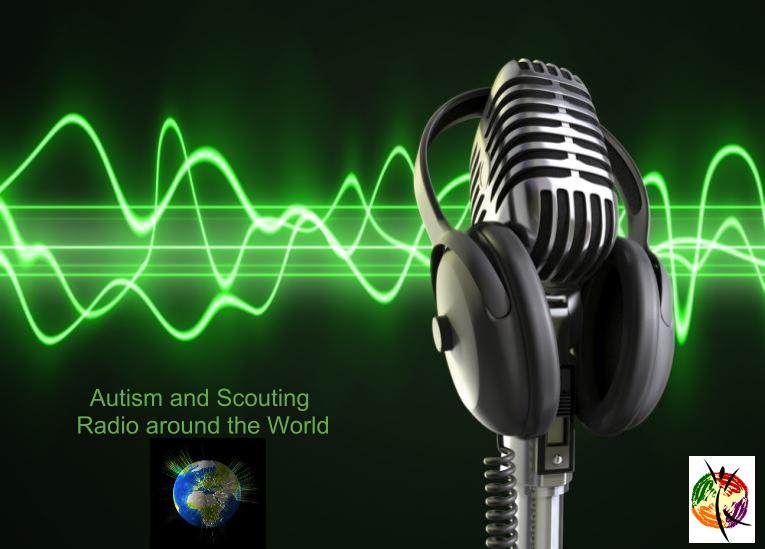 The growth of the Autism and Scouting Program offerings also started to increase during 2012. The Autism and Scouting Radio station, a specialty niche station and sister station to our already popular Autism Empowerment Radio was launched on July 6th.
The Autism and Scouting Radio show was a new venture with several different focuses. The first was to bring Autism Empowerment content to scout leaders who have scouts with ASD in their units. That portion was about education and training. Another focus was sharing many shows of inspiration to help motivate other scouts and scouting families to continue in their own personal journey. We also wanted to show parents the value of having their sons and daughters join and stay involved in a scouting program.
Within the first six months of the station launch, we produced 37 shows and had tens of thousands of listens. What helped was that all our shows could be listened to live but the majority of the listens came on-demand as all of our shows are archived and available to listen to through both BlogTalkRadio and iTunes. We had many different types of guest on air with us including Tony Mei the BSA National Special Needs Chair, scouts on the autism spectrum who had attained the rank of Eagle as well as many hours of Autism and Scouting original content. We wanted to make sure that we were meeting and helping to serve scouts in all kinds of scouting organizations worldwide and invited male and female scouters and scouting families representing a wide range of demographics and abilities. Although my own personal experience had been with the Cub Scouts and Boy Scouts and Karen's experience had been with Girl Scouts, we wanted to make sure that all organizations were welcome to share and that we believed we could all benefit from positive community collaboration. It was quite fun seeing different events around the world, hearing different accents and seeing scouters in different uniforms.
A scouting smile is universal.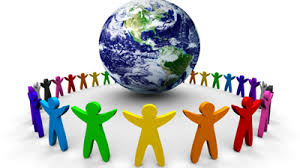 At the end of 2012, the Facebook Page had grown to over 1200 likes and the Facebook Group was nearing 200 with group members checking in from over 40 nations.  We also launched a Google+ site as well as a Pinterest Page and were taking a look at other ways to get the message out to not only spread awareness but more importantly, to teach and show acceptance.
2013 has been a year of global growth to bring unity and acceptance for youth who are in scouting and who are also on the autism spectrum.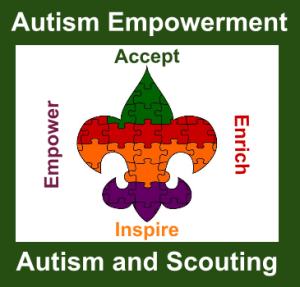 The Autism and Scouting Program is continuing to grow and is getting stronger with the educational, social and financial support of people like you. The "Autism and Scouting" page may have been started by one man. "Autism Empowerment" may have been co-founded by two people. Those two people had a calling and it is WAY bigger than them.
Autism Empowerment and our programs are not about a small "us" (one family, two children… although it is true that each person is important).  It is instead about the big "US", something we like to call "Universal Support". Autism Empowerment and Autism and Scouting is about all of us universally supporting one another. Individually we are stronger. As a community we are stronger.
Something fun we did in 2013 to help spread the word was coming up with a new Autism and Scouting Logo which brings together the four foundational pillars of Autism Empowerment: Accept, Enrich, Inspire and Empower.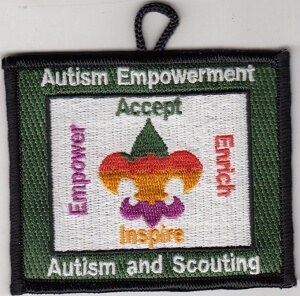 We then were able to turn this into an Autism and Scouting Patch to promote outreach. So far this patch has been shipped all around the world. We value all of the support that we have been receiving and like seeing pictures of scouts and volunteers wearing the patch.
Also coming in late 2013 is something we've been working with a Leadership Advisory committee on behind the scenes. This is the release of an Autism and Scouting Leadership training kit that will soon be available in physical and online form. We will have more information about this coming soon. You should be able to also access the kit online by January of 2014.
Sometimes people ask how we are able to accomplish everything that we do. It is humbly by the grace of God and the support of people like you.
Thank you for reading about the history of the Autism and Scouting program. We hope you will join us in the journey and help us continue to sustain and expand our organization. Each one of us has the ability to make life better and more meaningful for individuals and families in the autism and Asperger communities. It starts with Acceptance.
We Need Your Support to continue to positively reach individuals and families around the world.