Autism and Scouting Leadership Training Kit FAQ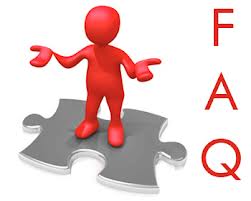 What is the Autism and Scouting Leadership Training Kit?
The Autism and Scouting Leadership Training Kit was designed to help scouting leaders and volunteers better support youth and adults on the autism spectrum who are interested in or currently involved within the scouting community.
Who can receive an Autism and Scouting Leadership Training Kit?  Through a generous grant from Autism Speaks, Autism Empowerment received funds to be able to develop and produce 500 physical kits that will be sent to units throughout the United States.
Any scouting unit can request a kit. It doesn't matter if you are a part of the Girl Scouts, Boy Scouts, Cub Scouts, Sea Scouts, American Heritage Girls, Baden Powell Service Association, Campfire USA, Venturers, Royal Rangers, MPact Girls, Trail Life USA, any faith based scouting organization or any other youth-development organization not mentioned above.
What does the Autism and Scouting Kit consist of?
It comes with an Autism and Scouting binder and 93 page training manual broken down into ten easy to read chapters. The kit also includes a DVD with supplemental training you can use for your full unit and special bonus materials. It also includes a free Autism and Scouting patch.
** Note: As of December 2014, we are out of physical copies of the Autism and Scouting Leadership Training Kit. We do have the information available in a PDF for free. We are also seeking philanthropists and organizations who would be interested in sponsoring a 2nd production run of the kit. Our first production run allowed us to distribute 575 kits around the USA at NO COST to the recipient! This is a wonderful outreach that is making a very positive difference in the scouting world! If you'd like to help us fundraise, please email: scouting@autismempowerment.org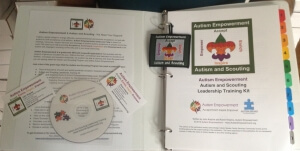 Will the information be available for download?
The complete Autism and Scouting Leadership Training Kit manual is available for free download as well as most of the items on the supplemental DVD.  There are hundreds of pages of additional resource material on the DVD. If you order the one of the kits, you name and unit will be kept on file and you will be notified when new materials come available and when there is additional webinar training. 

Who in our organization can request a kit for the scouting group?
When we are able to raise funds for another round of 500 kits, we will post!  For our initial funding round of 500 kits that we provided at no charge, we requested that a member of scouting leadership make the request. (i.e. Committee Chair, Trainer, Scoutmaster, Assistant Scoutmaster, Cubmaster, Den Leader, Troop Leader, Scout Leader or equivalent level of leadership.)
The good news is that you can still download the DVD material for free on our website and receive a free PDF of the Autism and Scouting Leadership Training Kit Manual. As we are able to secure additional funding, we hope to produce more physical free kits.
What is the cost of the kit?
The cost is FREE including it being shipped to you via USPS Media mail. The USPS does not guarantee delivery of Media mail but Autism Empowerment will include insurance on the package. If you would like to upgrade the shipping to USPS Priority shipping, cost would be $15.
If I order a kit, is my unit guaranteed to be shipped one?
The initial grant funding that Autism Empowerment received allowed us to produce 575 kits with the understanding that those kits be sent within the United States and there be an allocation available for each state. If we receive additional funding, we will try to offer a similar allocation.
How do I order a kit?
If interested in the online version, please see our Leadership Training Kit Online section.
How long will it take to receive the kit?
If you order an online version, we will send the PDF material to you within approximately 72 hours.
What about funding for additional kits? What happens when you run out of the initial supply?
We are in the process of trying to secure additional funding and believe that when people have a chance to see and read the kit, they will be interested in supporting our mission to support children, teens and adults on the autism spectrum who are involved in scouting.
*** WE NEED YOUR HELP!  If you know of any individuals, scouting groups, businesses, corporations or philanthropic organizations that would like to help fund this valuable project, please refer them to our website and let us know at scouting@autismempowerment.org. You can also make a donation at our Giving Page here. We are a 501(c)3 non-profit organization and rely on public generosity to fund our programs, services and special events. Thank you for helping support Autism Empowerment and our Autism and Scouting Program so we can have this kit distributed worldwide!  ***
Donate Today
Help Support Autism and Scouting spread Acceptance worldwide.
We aim to be a positive voice for Acceptance, Enrichment, Inspiration and Empowerment within the Autism and Asperger Communities. With your gifts and support, together we positively change the world.
Donate Today