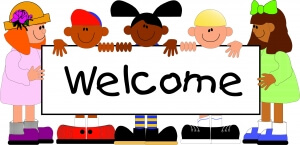 Autism Serves Kids Care Club

What is the Autism Serves Kids Care Club: Kids Care Clubs are groups of young people who volunteer together to help others in their communities and around the world. The Autism Serves Kids Care Club of Clark County is a fun, inclusive and autism-friendly volunteering club for kids and teens on the autism spectrum of all ability ranges as well as siblings and peer mentors. Our first club meeting was in October 2015 and our fifth season will be taking place: September 2019 – June 2020.
As part of a network of generationOn's Kids Care Clubs, we are connected with other youth volunteering clubs throughout the globe. We offer monthly service projects that will be worked on or completed at monthly meetings which are usually held the 2nd Sunday of each month from 2 – 4 PM. We also offer optional volunteer opportunities that kids and families can work on at home or in the community throughout each month.
Everybody has gifts to give and that including serving others. Volunteering helps lead to better health, a better sense of self-worth and helps build communication and leadership skills.  Club members will learn new skills, make new friends and earn rewards and recognition. Together, we are stronger!
Our monthly volunteer projects will tie in with either one or two monthly themes, one of which usually parallels Kids Care Clubs worldwide. Members are taught and encouraged to use reflection, demonstration and evaluation activities after the completion of projects. Curriculum is adapted to support youth on the autism spectrum so that members of all abilities each have a chance to participate.
The picture you see below was taken at our first meeting on Sunday, October 11th, 2015 where club members worked on volunteer activities related to Peace & Kindness and Bullying Prevention.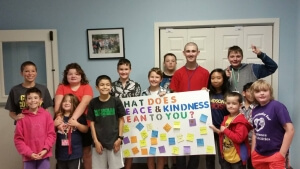 For each season, sign-ups will be limited to the first 30 youth participants ages 7 – 18. (Parents, teenagers and other adults will also be volunteering, however they are not included in these numbers.)
What information will you find here:
Dates, monthly themes from September 2018 – June 2019 and other basic information (2019-2020 schedule out soon)
How do I sign my child(ren) up for Autism Serves Kids Care Club?
How to track hours and volunteer options
Rewards for Service
How to volunteer and stay connected
How other nonprofits can contact the Autism Serves Kids Care Club
Supporters of the Autism Serves Kids Care Club
Look for Kids Care Club information by using the sidebar at the left. If you have questions about the club, please email Program Director, John Krejcha at: kidscareclub@autismempowerment.org or call us at (360) 852-8369.