Buy and Sell on eBay with eBay Giving Works
Autism Empowerment is proud to be part of the eBay Giving Works program. Now you can easily support our mission when you buy or sell on eBay. It's easy and you can even donate directly!
Visit the Autism Empowerment eBay Giving Works Page to get started!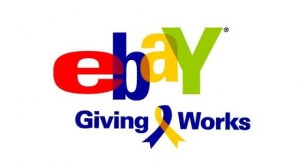 Sell – If you sell at eBay, you can support Autism Empowerment and get a fee credit for your basic selling fees! At the time of listing, just designate Autism Empowerment to receive 10-100% of your final sale price.
Buy from others – You can find all kinds of things to buy on eBay – from baseball cards to new cars and more. When you shop for items that were listed by other sellers to benefit Autism Empowerment, you can get a great deal and support Autism Empowerment at the same time.  It's also pretty awesome to support other sellers who also believe in our mission!
Donate your items to us and we will auction them for charity through our non-profit Autism Empowerment account at eBay. We accept all kinds of items and will provide you with a receipt. If you have questions, please email donations@autismempowerment.org.  Items can be mailed to: Autism Empowerment, P.O. Box 871676, Vancouver, WA 98687. If you need a street address, please email.
If you are in the Vancouver, WA area, donations can be accepted for Autism Empowerment at Stephen's Place, 501 SE Ellsworth Road, Vancouver, WA 98664. If dropping off directly at Stephen's Place, it is important that the donation is clearly labeled to Autism Empowerment or else it may not be received. If dropping off, please call us at (360) 852-8369 or email donations@autismempowerment.org first to make sure someone will be available.