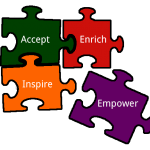 The first four Core Values of Autism Empowerment are our four foundational pillars. These concepts are embedded into our corporate philosophy, our website, our programs, our support services and our community.
You will often hear us talking about promoting Acceptance, Enrichment, Inspiration and Empowerment within the autism and Asperger communities and in all communities. This ties in with our mission and vision.
Accept – We strongly promote the unconditional acceptance of those on the autism spectrum. This includes self-acceptance and social acceptance. By accepting each spectrum traveler for who they are, where they are in the present moment, we are promoting both autism acceptance and autism awareness in a positive and respectful way.
Enrich – Our goal is to provide educational resources, programs and tools to improve and enhance life skills for those on the autism spectrum as well as their families, caregivers, therapists and teachers. We aspire to make life more meaningful and rewarding.
Inspire – We dedicate ourselves to being a positive and uplifting organization that encourages, promotes and celebrates success in all individuals. We believe each person on the autism spectrum has the opportunity to make a positive difference in this world.
Empower – We strive to empower individuals on the autism spectrum to achieve their highest quality of life academically, emotionally, financially, socially and spiritually.
While here at Autism Empowerment and while out in your daily life, we want you to know that you've found a community where you can feel that you are accepted for who you are, inspired to improve yourself, feel enriched by the information that you find and are empowered to advocate for yourself and live your best life possible.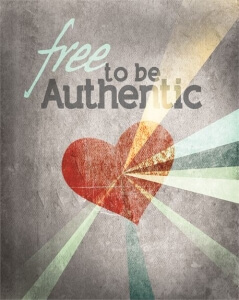 Individuals on the autistic / autism spectrum have the right to define themselves and not be defined by a label or stereotype.
In order to bridge the gap we sometimes see in the autism community, we need to respect differences and value neurodiversity.
We are not in competition with other organizations and believe in the power of positive collaboration and community.
We are called to serve. When we step outside of ourselves to help others, amazing change can take place. 
To promote acceptance of individuals and families within the Autism and Asperger communities. Come as you are, let your light shine!

To accept and appreciate the complete spectrum of autism and serve all ages and stages of life.

To promote acceptance of people with all abilities. Each of us is an amazing human being with gifts, talents and skills to share.

To provide enrichment to the Autism and Asperger communities through educational and support resources and venues.

To demystify and make less intimidating the process of navigating the educational and medical systems to find treatment and support.

To connect individuals on the autism spectrum with valuable resources and with each other.

To empower individuals with autism to identify their strengths, gifts and talents and to celebrate their successes.

To assist individuals with autism to identify challenges and implement meaningful coping strategies.

To empower individuals and families impacted by autism to participate in advocacy.

To provide opportunities for individuals with autism to inspire and mentor others on the autism spectrum.

To promote that "people first" language applied is more about positive attitude, tone and showing respect than it is about linguistic semantics. Respect the person first. Let people define themselves

.
Donate Now
The Autism Empowerment community is YOUR community. It is OUR community.
Show your support and together we will positively change the world.
Donate Now